You have probably tried a chatterbait before, or maybe you're thinking of giving it a try. If you haven't, then you don't know how much fun you are missing. However, getting the best out of a chatterbait is a commonly sought question.
It is a worthy addition to one's tackle bag. The item is aggressive and maximizes erratic action and vibrations on the surrounding environment. This has made it one successful trap to catch bass. However, a lesser percentage of those who own them know how to use them. So, here are a few chatterbait tips to help you improve your fishing experience.
Chatterbait – What Is it?
Before jumping right into the process, let's get a few chatterbait basics if you have not used it yet. Chatterbaits are basically improved jigs invented by Z-Man. Not many knew about chatterbaits until 2014, when Brett Hit, a pro fisherman, won two consecutive fishing competitions in the same year. That was in the FLW Tour, which was held at Lake Okeechobee and the Bassmaster Elite held at Seminole. Brett used chatterbaits for the two competitions.
Chatterbaits are mainly designed to perform better than square-bills and spinnerbaits. They feature an enormous hexagonal blade that ups the ante on vibration while at the same time maintaining the soft plastic action hence their name.
They are attached to the rod's hooks when going fishing in shallow areas. These units are available in different designs, but mostly they look like weeds and worms. You can add buoyancy, more bulk, and action with this lure just by adjusting the attached trailer. This makes it highly versatile.
So let's get into the major thing of this article; the fishing process.
Chatterbait Fishing Tips
How do you fish a chatterbait? It might have been hard when you tried before, but with these tips, you'll realize how simple everything is.
1. Get Prepared
If you want to achieve the best from a chatterbait, then you need to be highly prepared. Check if you have everything in your tackle bag. For your gears, have a 7 inches medium action fishing rod fitted with a swift rod tip, a bait caster, 15lb fluorocarbon or 30lb braided fishing line, chatterbaits trailers, and several chatterbaits.
Don't forget to have a long-sleeved t-shirt purposely for fishing with moisture-wicking, UV protection, quick-dry, and microbial. Your fishing shorts should have deep pockets too.
2. Chatterbait Casting
It is essential to note that chatterbait achieves its utmost potential when cast in shallow areas and active bass. We're talking about summer to fall and spring through summer. You may adjust to mid-depth in wooden places with logs and stumps, grass targets, mussel's beds, and around docks.
3. Handling Chatterbaits
To achieve the very best, you need to handle the chatterbait slowly despite the place you're casting them. Don't just throw them through water masses. Go slow, and the lure will lead the bass right to you. However, for that to happen, you have to work everything correctly.
It can be dissatisfying and disheartening to go fishing, and after hours of trying your luck, you still get nothing. However, this is common among chatterbait newbies, and it mostly happens when they are handling the lure incorrectly. So start by having your lure submerged to the bottom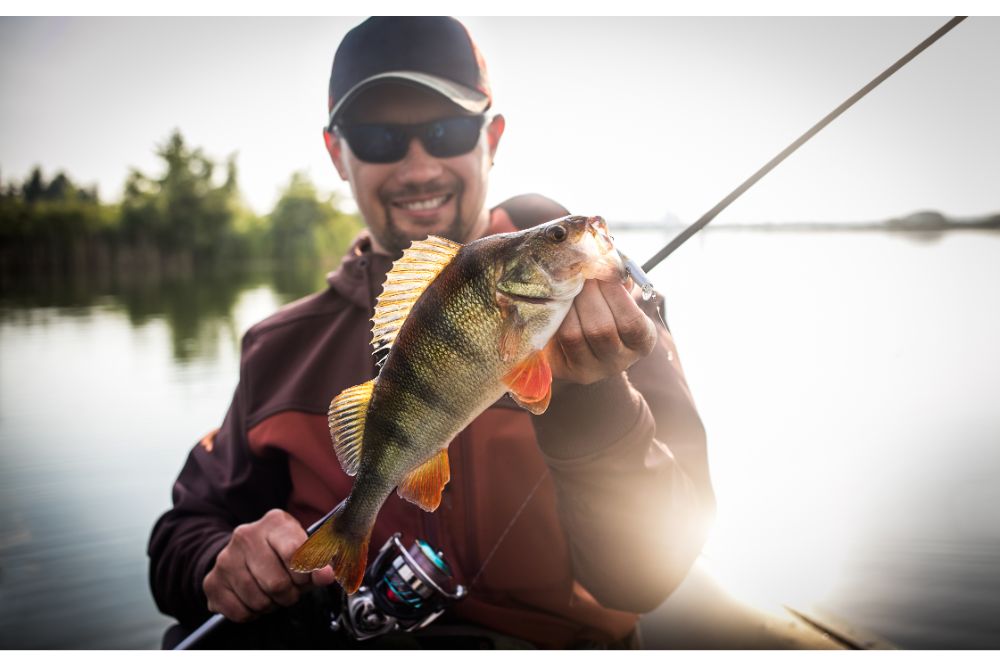 4. Working the Action
Now that you know where to cast and how to handle best chatterbaits, there is one more thing you need to work on to achieve the maximum positive results: working the lures in the right way. How do you attain that? You employ the right and most suitable tactics, some of which include the following:
Ripping
This technique is used when the bass isn't in a predatory mood or as receptive as you thought. Ripping helps create an impulsive movement in the surrounding environment, thus attracting any bass nearby.
The right way to do this is by reeling your chatterbaits slowly at the top of the shallow and then yank it free on the grass while flicking your wrist.
Slow Bait Rolling
Slow rolling is another technique you can try. The deal is to have your bait settled down in the water, increasing the probability of bass attacking it. However, ensure it is reeling slowly. Once you feel the chatter bait getting closer to the water surface, move to a heavier leap.
Soft and Steady Shaking
There is nothing complex about this technique. All you will do is the normal shaking of the uppermost rod tip. This is consecutively followed by a round and down shaking as you retrieve your lure from the bait. This makes the jig dart around the entire space, causing pulsing and skirting. In rare cases, the chatterbait causes flaring, which also comes in handy.
Steady Burning
Burning is the opposite of slow bait rolling but is just as simple. To do it, reel your chatter bait faster in such that the blade is moving similarly underneath the water surface. This makes it look like a fleeing fish. The best thing about this technique is that you can't miss feeling an aggressive bite, and that is when you pull up your catch.
Chatterbait Pro Tip
Be sure to match your hatch when fishing in clearer water and try vibrant when in murky waters. For a good number of lures when going natural in clearer water, match your hatch with either perch or ciscoes for pike or shiners and flogs for bass.
On the other hand, muddy areas would use colors such as chartreuse and white. You can advance your choice with a variety of plastic trailers that come in various styles and colors.
Conclusion
When handled with confidence and by someone with skill, chatterbaits are amazing fishing tools. The vibration and extra action from water pressure give you a direct ticket to some great results. If you're tired of empty fishing from other baits, then try chatterbaits. It is a versatile lure that has incredible sensitivity.
The units come in various styles, designs, and colors to meet everyone's needs. Hopefully, with the above tips, you're in a great position to fetch the best out of your chatterbaits.