You know how to fish. You know how to kayak. But, do you know how to kayak fish?
That is the question.
Now, many of the things you already know will help, but you do have to tweak the way you do things a bit to really be successful.
I want to help you be more successful and understand how to prepare yourself for a successful outing. Whether or not these tips actually help you catch more fish, you will be able to at least have more fun by following some simple guidelines.
Read on for all the tips!
Safety first!
Before you learn how to fish from a kayak and set out on your fishing adventure I want to remind you to make sure you have all of your safety precautions well thought out in advance.
The first thing to do is check the weather conditions to see if there may be some high winds or rain. Make sure to check a maritime report and not just the local weather as you also want to know about the height of the waves. Pay close attention to any small craft advisories for your area.
Check all of your safety equipment beforehand. Your PFD should have all the clasps working, your VHF radio should be charged and you should have your paddle leashes secured. Go around your kayak and check to make sure things look alright.
When you are out on the water, try to stay out of any areas with high boat traffic and watch for other boaters in general.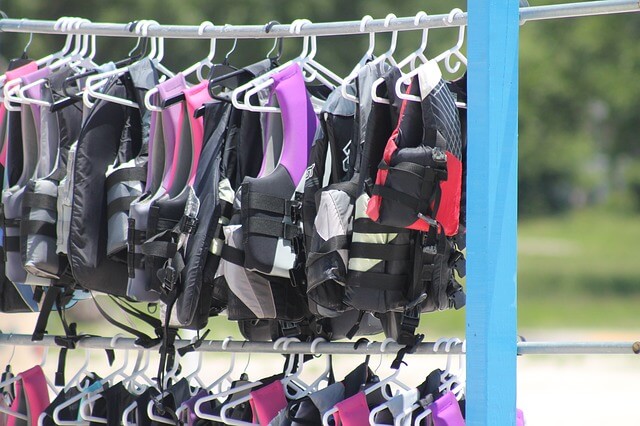 Bring an anchor
There is nothing worse than seeing fish stacked up on your fish finder and not being able to anchor up over them. Yes, you could drift or troll through them, but having options is your best bet.
Using an anchor can have you set up in an area where you think there may be fish looking to feed. For instance, by a bridge piling or at the side of an eddy. Rather than wait to drift by, you can set yourself up and toss your line to where you think they might be staging.
If you are in the flats then a stake out pole will have the same effect.
Use your space wisely
You don't have much room in your cockpit, so you have to really plan out how you rig your kayak.
Figure out which tools you will be using most often and keep them within easy reach. I like to use a fishing PFD with plenty of pockets and spots where I can hang some gear like a lip gripper or pliers. The one by NRS Chinook is my favorite and gives you plenty of space to keep your stuff. I like to have extra rods ready to go so get yourself some fishing rod holders to attach to your seat or milk crate. Even better than a milk crate is this insulated pack already set up with rod holders and pockets.
Have your rigs ready to go
Things can happen fast when you're out on the water. Having pre tied rigs for your lures or bait hooks is essential. You could have a toothy fish bit off your bait and you'll want to get your hook right back in the water. Tying a rig while you are rocking around in your kayak with the wind on you is a challenge to say the least.
I like to have a back up for every eventuality.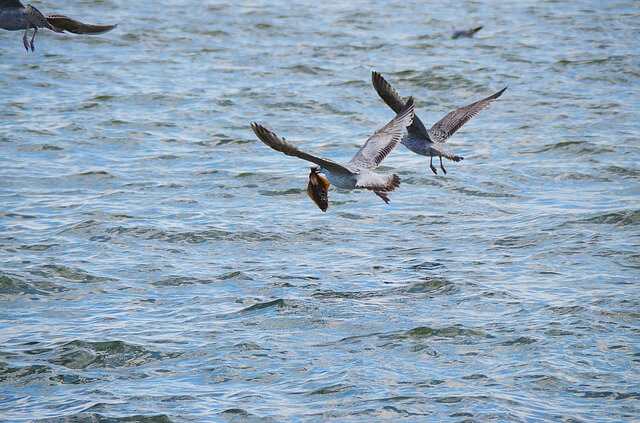 Look for birds feeding
One of the most surefire ways to get on some fish is to look to see where the birds are feeding. If you see a lot of birds diving into the water, it means there is a blitz of fish under there feeding on some bait.
Now that you have a way to get there silently you are almost guaranteed a fish. Until the boats come and scare off the fish with their loud motors!
You have some options when it comes to hooking up. You can troll through the blitz, float some bait in the middle of the area, or work a jig lower in the water column.
The bigger, smarter fish like to sit lower in the column and wait for the bits of fish to fall down to them so they can save their energy.
Invest in a fish finder
I would be lost without my fish finder. Not only is it great for seeing what fish are under you, but what the bottom of the sea or lake is like, too. Knowing what it is like there will help you better target what type of fish to target. For instance, where I fish there are some rocky areas under the water and then mixed in some sandy ones. 
If I see it is sandy bottomed, then I am going to target flounder. If there are rocks then I'm going after stripers.
A whole article can be written on the different kinds like through-hull transducer and others, but let me just say that I think the best ones on the market are from Lowrance.
Wrapping it up
These kayak fishing tips will get you started and at least thinking about how to approach kayak fishing in general.
Of course, where you fish is going to play a part and what fish you are targeting especially.