Bass fishing is one activity that requires you to have the right gear. When it comes to results, there is a clear distinction between having the right equipment and not. With the right fishing gear, you will consistently hook more bass that will be much bigger.
One essential thing to consider is the size of your fishing line. It is necessary to ensure that you have the right size that delivers bait with the required power and functionality. But getting the right size and functionality is something that takes time and some fine-tuning.
To determine the right size, it is vital to measure the fishing line using the pound test. A pound test estimates the strength of a fishing line depending on the weight of the bass. It can simply be termed the maximum number of pounds that a fishing line can hold without snapping.
For instance, a line labeled 10-lb test can withstand 10 pounds without breaking. For bass fishing, the best line size should be anywhere between 8 to 60-lb test, depending on the type of gear you are using it with.
8-Pound Test Line
This is the smallest fishing line for bass fishing is an 8-lb test for fluorocarbon and monofilament lines with finesse presentation and spinning gear. Most fishing anglers prefer to use heavier tackle lines, mainly because they hate spinning.
This size is thin enough to fool a wide variety of clear water bass and still has the correct diameter to endure frictions from a rock pile, dock post, or the bass pull. But this size works best for clear waters, especially when the fishing conditions are challenging. It is perfect for doing bass fishing tricks such as wacky rigging, Neko rigging, drop shotting, pitching floating worms, throwing soft jerk baits, and fishing in shallow waters.
As you might already know, fishing lines depend on the user's tastes. For this size, you can go with either a fluorocarbon or monofilament line. However, straight monofilament lines are more effective in comparison to fluorocarbon. It is also much cheaper thus affordable for most people.
12-Pound Test Line
If you want to either crank or wind a bait in bass fishing, the best option to go with is a 12-lb fluorocarbon line. For deep-diving crankbaits, jerk baits, lipless crankbaits, or finesse crankbaits, you have to ensure that you have vertical jigging spoons and several spools for the line.
A 12-pound test fluorocarbon line fishing line is perfect for ensuring that the fish is well pegged, especially when they are trying to dig at the boat's sides. This line size can be used for fishing square bills if you prefer it. It is also preferable for skirting a boat docks perimeter or winding along a riprap stretch.
17-Pound Test Line
A 17-pound fishing line is probably the most effective size for bass fishing. It is relatively thick enough to handle the weight of crankbaits or heavier and larger fish. When fishing for a square bill in a thick cover or doing a generic Texas rig or a spinnerbait in shallow waters or around docks, this is the perfect size to use. You can go with a fluorocarbon line with abrasion resistance for better results because it can handle the stretch.
Combined with a medium-heavy duty casting rod, you are equipping yourself with one of the best bass fishing gear. The combination works well for bottom-contact presentations and reaction-type lures. It is tough enough to endure a lot of friction and movement while leaving room for the bait to move freely underwater.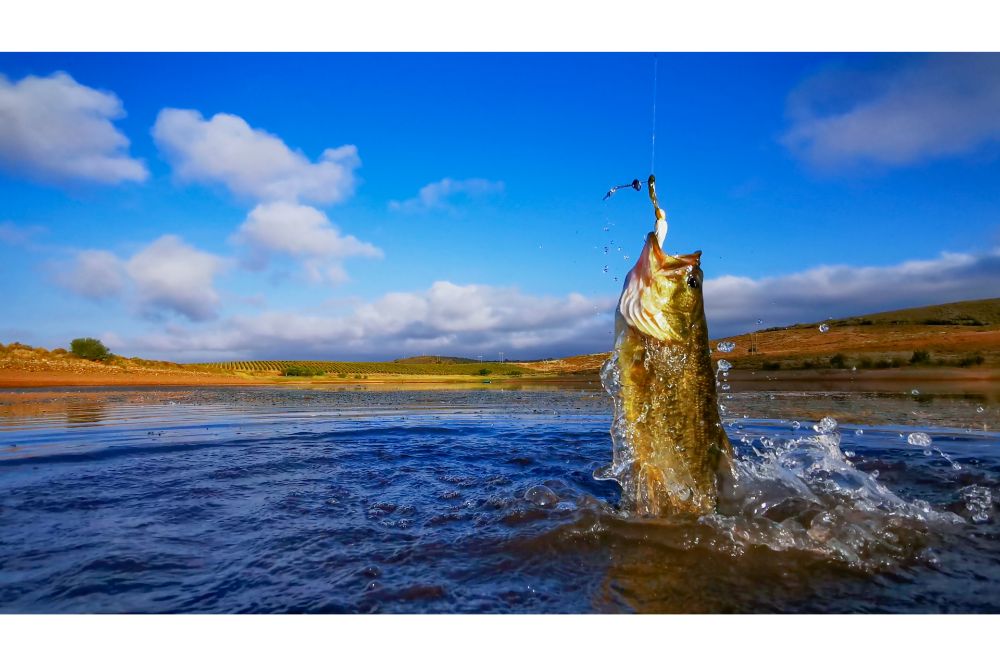 20-Pound Test Line
A 20-pound test line fishing line is great for skipping and pitching, especially a fluorocarbon line. You can choose to go for a 25-pound test line if you want, but you'll have a rougher time trying to skip the bait due to the thick diameter, which tampers with the manageability.
When paired with a heavy-duty casting rod, this size is practical for three-eighths to half-pound jigs and even heavier Texas rigs. You can also use the size for pitching creature baits. With this size, you will have several bites even when fishing in clear water. The line conceals well, making it perfect for close-quarter combats even in dense thickets in a lake.
30-Pound Test Line
Although it can be pretty tough to use, a 30-pound test line is the most effective size to use when trying to fish using topwater lures. This fishing line size is unbeatable, especially when coupled with topwater plugs such as Lucky Craft Sammy, 13 Fishing Duel Pitch Top Walker, or a Zara Spook.
For this fishing line size, the best material to go with is a braided monofilament because it makes the diameter smaller leaving room for long-distance casting. Besides, the braided line has some no-stretch properties that facilitate an incredible hookup ratio.
60-Pound Test Line
Most people think that a 60-pound test line is a little over the top, especially for bass fishing, but they are wrong. It is probably the best line size to go with if you intend to do some shallow water fishing since it blends with thick covers. Combined with topwater frogs, heavy Texas rigs, and buzz baits, you will find your target with ease.
Again, the best option to go with here is a braided line. This is because it provides no stretch, and since the line is not as thick as most people assume it is, it works well with a wide range of casting reels. Besides, it can handle a lot of stress, especially when the bass is large.
Final Thoughts
When fishing for bass, the right fishing line size depends on your fishing spot and the accompanying gear you have. The sizes vary from an 8-pound test line to a 60-to-65-pound line size. Each line size is well equipped to handle different types of fishing conditions. Some do well in shallow and clear waters, while others do well in thick covers and deeper waters.
Understanding the environment you want to fish in is essential to equip yourself with the right fishing line size that guarantees maximum output.