The number of people practicing trout fishing has significantly increased in recent years. Many ponds and lakes have abundant rainbow trout and the prior existing populations of cutthroat, brook, and brown trout. Such abundance brings a great fishing opportunity for anglers than before.
However, if you want to achieve the very best of these opportunities, you need to have a reliable fishing rod for trout. One thing you need to know about trout is that they are picky and very shy compared to other fish. This requires you to use subtle tactics alongside a lightweight and smooth fishing rod.
You're likely to find various trout fishing rods in the market, but which one is the most suitable for you? Let's have a look at some of the most reliable fishing rods for trout you could try.
St. Croix Premier Spinning Rod
If you have been fishing trout for a while, you must have come across this rod. It is an ideal tool for anglers seeking a high-performance rod but at a competitive price. The rod features a high-quality SCII graphite construction, producing additional strains, making it rigid and durable.
Its outstanding performance makes it outshine other fishing rods in the market. The lightweight design contributes to its highly sensitive and easy-to-carry nature. St. Croix Premier also features a premium-grade cork which helps in strong handling and rod comfort.
You will love the Kigan master 3D hand guide, which is adjusted with strong aluminum-oxide rings. The feature provides comfort and smoothness too. Interestingly the rod is fit to use in various water habitats. However, it is ideal to note that it is short and may not achieve its utmost potential when cast in deep waters.
Shakespeare Micro Spinning Rod
This is another incredible choice to go for. It is of high quality and brings about great performance. Flexibility and durability are the major focus of Shakespeare's rods. It is very light, making it shine in finesse applications while still offering much power and strength to handle a bigger trout.
The rod action is quite fast, which makes it highly sensitive. As compared to other rods, you may feel some weight difference with this one because it features a blank composite construction. This feature helps the rod sustain excessive strains when catching big trout without breaking hence boosting its durability. Overall, it is ideal for all standard applications.
Ugly Stik Elite Spinning Fishing Rod
If you're looking for an easy to go for choice, then this is likely to be the right one for you. This trout fishing rod is packed with every angler in mind may it be newbies or professionals. It comes in various sizes, which range from ultra-light 4'6″ to medium-light 7'6″. However, it is advisable to go for 6′ or higher even when your main objective is to catch smaller fish.
The longer the length, the more the control and strength suppose you catch an enormous trout. It is built of spun graphite which contributes highly to its lightweight design and sensitivity. Its cork handle contains the brand logo, and since it's designed for various users, it can fit in many hand sizes.
Another additional feature that is quite important is the stainless-steel guides which offer durable responses and eliminate insert pop-outs.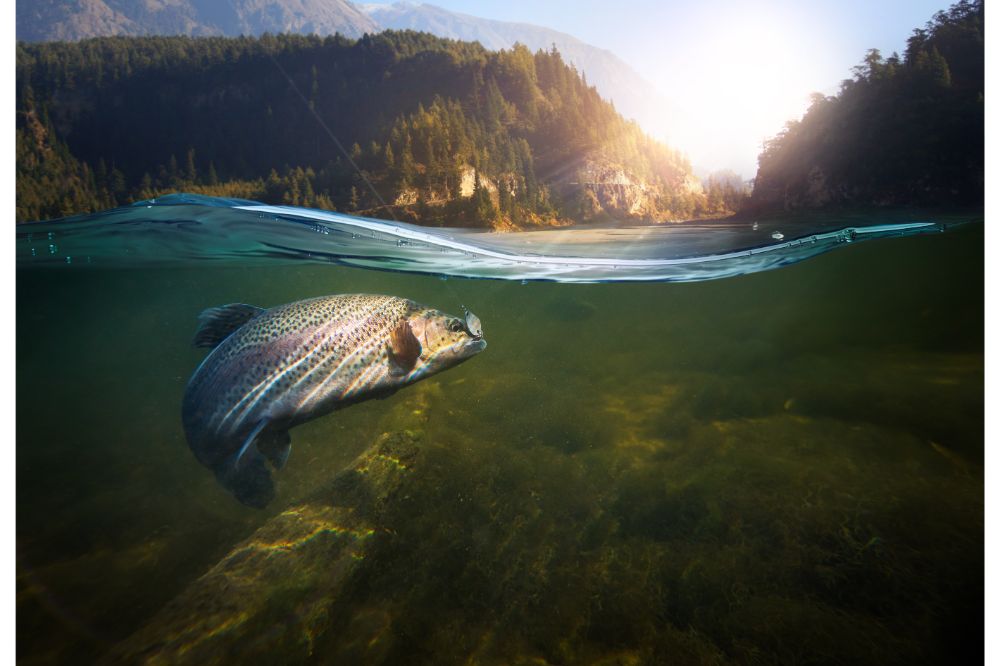 Fenwick Eagle
This is a 5'6 trout fishing rode with moderate action and ultralight power. Anglers mostly love it for its sensitive nature in that you can see bubbles once it gets into contact with a trout. How does it achieve this? It easily translates vibrations from underneath the water directly to your hands.
It is adjusted with a stiff tip which comes in handy when setting your hook quickly. However, it is important to note that there is a likelihood that the rod will bend down a little when fetching a larger trout. Fenwick Eagle is an ideal choice for rivers and streams.
KastKing Perigee II
KastKing Perigee II is designed to suit anglers that spend more time fishing. It's therefore geared towards comfort and fast action. The rode comes in size 5'6″ to 6'0″ and are designed with a higher quality composite material throughout the entire rod.
What is more, it can handle a variety of weights depending on the size of trout you catch. Its composite EVA material provides an ergonomic grip that sustains various hand sizes and maintains comfort throughout fishing. Its line guides and reel seat are created to go easy on your reels but still last for extended periods.
The two-piece construction makes it an ideal traveling fishing item to tag along since it is easily packed in a backpack. More importantly, it is a fast-action trout rod with a great feel, but it is not ideal for long casting.
Conclusion
Historically you're more likely to find trout in the most spectacular and remote waterways. However, fishing them requires more than just a wet hook. An intelligent angler knows how best to get the right lure to the trout. Well, finding the perfect spot to catch one is just but one task. The major one begins with having the right equipment for the job, a good fishing rod for a trout.
The mentioned above trout fishing rods are some of the best in the market and come in handy when going out fishing. Additionally, when choosing among them, you might consider variables like weight, length, power, action, and material.